I am honored to be the recipient of the 2021 JAZZ JAMM award for Significant Contributions to Jazz in Mid-Michigan. Not only will we be celebrating that achievement on November 8th in a live-stream that will be broadcast at 2pm EST, but it is also the 20th anniversary of my trio organissimo.
If you watch the live-stream of the concert you'll see our original guitarist, Joe Glostott playing with us for the first time in 8 years. And of course we'll have our current guitarist Lawrence Barris on hand, as well as some special guests.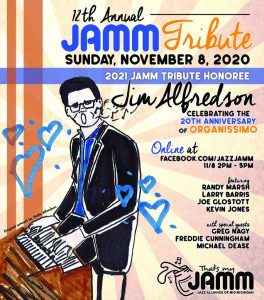 The concert will not only be live-streamed but also professionally recorded for release as a CD. If you'd like to pre-order a copy, please use the button below. We are aiming for a mid January 2021 release date.
PRE-ORDER THE CD BY CLICKING THE BUTTON BELOW